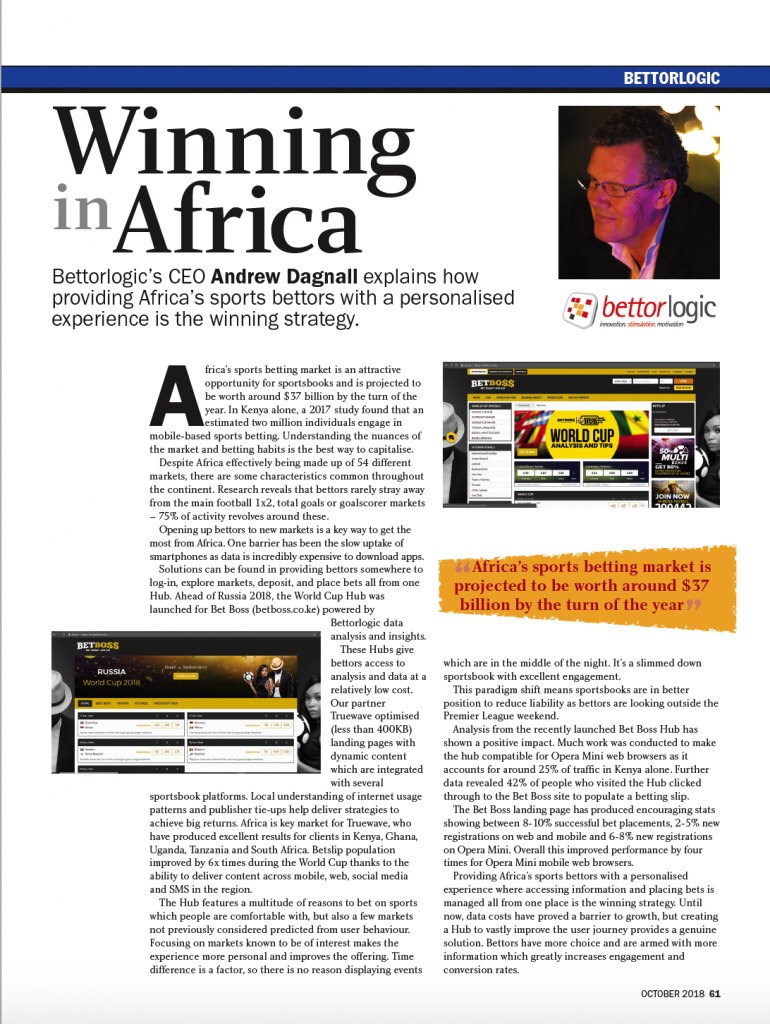 Africa's sports betting market is an attractive opportunity for sportsbooks and is projected to be worth around $37 billion by the turn of the
year. In Kenya alone, a 2017 study found that an estimated two million individuals engage in
mobile-based sports betting. Understanding the nuances of the market and betting habits is the best way to capitalise.
Despite Africa effectively being made up of 54 different markets, there are some characteristics common throughout
the continent. Research reveals that bettors rarely stray away from the main football 1×2, total goals or goalscorer markets– 75% of activity revolves around these. Opening up bettors to new markets is a key way to get the
most from Africa. One barrier has been the slow uptake of smartphones as data is incredibly expensive to download apps. Solutions can be found in providing bettors somewhere to log-in, explore markets, deposit, and place bets all from one Hub. Ahead of Russia 2018, the World Cup Hub was launched for Bet Boss (betboss.co.ke) powered by
Bettorlogic data analysis and insights. These Hubs give bettors access to analysis and data at a
relatively low cost. Our partner Truewave optimised (less than 400KB) landing pages with dynamic content
which are integrated with several sportsbook platforms. Local understanding of internet usage patterns and
publisher tie-ups help deliver strategies to achieve big returns. Africa is key market for Truewave, who
have produced excellent results for clients in Kenya, Ghana, Uganda, Tanzania and South Africa. Betslip population
improved by 6x times during the World Cup thanks to the ability to deliver content across mobile, web, social media
and SMS in the region. The Hub features a multitude of reasons to bet on sports which people are comfortable with, but also a few markets not previously considered predicted from user behaviour. Focusing on markets known to be of interest makes the experience more personal and improves the offering. Time difference is a factor, so there is no reason displaying events which are in the middle of the night. It's a slimmed down sportsbook with excellent engagement.
This paradigm shift means sportsbooks are in better position to reduce liability as bettors are looking outside the Premier League weekend.
Analysis from the recently launched Bet Boss Hub has shown a positive impact. Much work was conducted to make the hub compatible for Opera Mini web browsers as it accounts for around 25% of traffic in Kenya alone. Further data revealed 42% of people who visited the Hub clicked through to the Bet Boss site to populate a betting slip. The Bet Boss landing page has produced encouraging stats showing between 8-10% successful bet placements, 2-5% new registrations on web and mobile and 6-8% new registrations on Opera Mini. Overall this improved performance by four times for Opera Mini mobile web browsers.
Providing Africa's sports bettors with a personalised experience where accessing information and placing bets is managed all from one place is the winning strategy. Until now, data costs have proved a barrier to growth, but creating a Hub to vastly improve the user journey provides a genuine solution. Bettors have more choice and are armed with more information which greatly increases engagement and conversion rates.