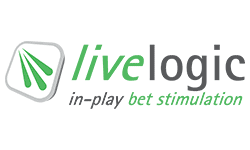 The most effective product
for in-play betting
Platform – Desktop / Mobile
Updated in-play information that is generated every 5 minutes or whenever there is a change in match status.
Livelogic uses a complex hierarchy to ensure that it delivers the most stimulating information as opposed to the most obvious.
For example, when Arsenal were leading 4-2 against Spurs with 10 minutes remaining at the Emirates recently, instead of stating that Arsenal had won their last 10 games when in a similar position, Livelogic highlighted that "There has been another goal in 65% of matches between top-half teams and that Spurs have scored next in three of their last seven similar away matches.
Available as a hosted solution or XML feed
Just need your odds feed for integration
Complete flexibility of display and language generation
Available in a variety of languages
Comes with a Twitter feed
Over 80+ Soccer Leagues
Tennis Livelogic covering ATP/WTA/Challenger events
Ice Hockey covering major leagues and soon to be completed Baseball and Basketball.
Livelogic is a unique, real-time, bet stimulation technology
Proven to significantly increase in-play volumes and frequency typically 18-22%
Web, mobile and affiliate applications, Livelogic can be used across all major platforms
Over 40 bet prompts per event, identifying the strongest patterns in real-time
Linked to relevant market, live price and bet-slip
Customizable, simple to integrate